Autumglo Provides Safe, Clean Dog Boarding in Fredonia
Wisconsin Dog Boarding Guests Love our Cozy Kennels
Autumglo's dog boarding kennels provide comfortable, cozy, and safe environments for man's best friend. Our luxury dog boarding kennels are available in varying sizes and with varying amenities. Please read below to find out which pet suite is right for your dog.
Dog Boarding Prices
| | | |
| --- | --- | --- |
| | Dog Kennels | Luxury Cabin Suites |
| 1st DOG | $39/day | $51/day |
| 2nd DOG* | $37/day | $38/day |
| 3rd DOG* | $31/day | $36/day |
Every Seventh Day/Stay is FREE!
*2nd dog and 3rd dog prices only apply when they are in the same area
Local Dog Boarding Add-ons
$8.95
/session
Cuddle Time
$12.95
/session
15 min Nature Walk
$12.95
/session
One on One Playtime
$7.95
/fill
Kong filled with frozen yogurt or peanut butter
$25.00
/session
Nail Trim
$14.95
/session
Enrichment Games
$16.95
/session
Fitness & Agility
Doggy Suites
Our standard dog boarding kennels are not standard by any means! These luxury doggy suites include spacious rooms, which are air-conditioned in the summer and heated with radiated in-floor heating during winter.
Your dog will sleep comfortably on a plush doggy bed, from which there are several you can choose. The walls between our luxury dog boarding kennels provide the ultimate safety and privacy for your pet.
Each of our dog boarding kennels is sanitized throughout the day, ensuring your pet enjoys a clean and healthy environment. Nowhere will your pet enjoy their stay at much as at Autumglo Pet Lodge.
Luxury Cabin Dog Boarding Suites
Autumglo Pet Lodge is one of the only pet lodges in Southeast Wisconsin to offer Luxury Cabin Suites for local dog boarding.
These spacious, individual rooms are ideal if you have more than one dog, or just like to pamper your pooch.
In addition to the amenities offered in our standard dog boarding kennel accommodations, the Luxury Cabin Suites offer your pet more room to lounge, relax and enjoy their vacation. Each local dog boarding cabin suite has a different "lodge theme". Choose from the:
Deer Suite
Bear Suite
Wolf Suite
Pheasant Suite
Bass Suite
Moose Suite
Duck Suite
Added features in these luxury dog boarding kennels includes a television, your choice of bed, daily maid service and, a choice of snacks before bedtime.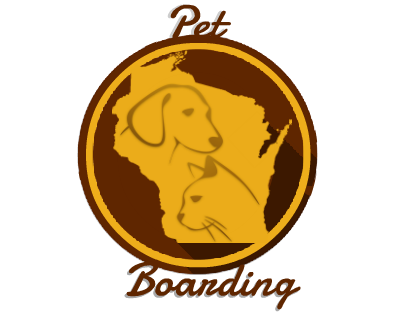 Dog Boarding Exercise/Socialization
Dogs are let out per family 5-7 times every day into a fenced-in area. We do not let dogs out with other guests for safety reasons. Dogs, similar to people, have varying exercise needs and activity levels; Autumglo Pet Lodge offers extra activities to meet the individual needs of our four-legged guests.
Required Dog Vaccinations in Wisconsin
Your pet's safety is our top priority. Before your dog can stay at Autumglo, we will need documented proof of Bordetella, Rabies, and DHLPP vaccinations. The state of Wisconsin requires these for dog boarding. There are plenty of clinics that offer low-cost dog vaccinations in Wisconsin.
Bordetella

The Bordetella vaccine injected into the nose of a dog, protects dogs from what's known as "Kennel Cough" in communities across Wisconsin.

Bordetella: A disease caused by one or more viruses & bacteria.

Rabies

Backed by Wisconsin state law, the rabies vaccine is required to be taken no later than 5 months of age.

Rabies: A fatal disease that attacks brain cells.

DHLPP

Essentially 8 different vaccinations in one, the DHLPP vaccine must be started around 8 weeks of age and boosted every 3-4 weeks until 4 months age, then once on a yearly basis. This vaccine protects against:

Distemper: A paramyxovirus similar to human measles.
Hepatitis: An adenovirus causing liver, eye, or kidney failure.
Parainfluenza: A potentially deadly virus known, also known as the tracheobronchitis disease or "Kennel Cough".
Parvovirus: A virus that can kill dogs in less than 72 hours.

Leptospirosis

We require your dog to be to be vaccinated against Leptospirosis due to being around other dogs.

Leptospirosis: A bacteria capable of causing kidney failure & death.

Lyme

It is recommended (not required) that you vaccinate your dog for Lyme disease since our outdoor area does pose the risk of harboring ticks.

By keeping your dogs up to date on their Lyme disease vaccinations, you can sign them up for outdoor playtime stress-free!

Lyme Disease: Borrelia burgdorferi bacteria is transmitted by ticks & can lead to kidney failure & death.
Doggy Day Care Facility
Our Doggy Day Care program allows spayed or neutered dogs to play together in a supervised environment.
Dog Boarding for Frequent Travelers
Are you a cat/dog owner from Green Bay, Ashwaubenon, Allouez, De Pere, or the surrounding areas? Going to Chicago's O'Hare International airport? Maybe headed to Milwaukee's General Mitchell International Airport? Leaving for a vacation to anywhere but where you live?
Good for you! We hope you have a great trip.
On your way to the airport, stop at Autumglo Pet Lodge, and drop your pet off at the place you trust to keep your dog safe, comfortable, exercised, and healthy. We also provide an optional grooming service in addition to our pet boarding. Your pet will smell great, have a shiny coat, and be plenty exercised when you return from your trip. Still, we're willing to bet your pet will have enough energy to wag its tail excitedly as you walk through our doors to pick them up.
Dog Boarding FAQs
What's the main difference between dog kennels and luxury cabin suites?
The luxury cabin suites are larger, individual rooms while the kennels are a shared room where your dog will have their own private space. The cabin suites are perfect if you have more than one dog, or just like to pamper your pooch. Both are cleaned & sanitized daily, heated in the winter, and cooled in the summer.
Does not having a Lyme disease vaccine limit my dog from any activity or services?
Not having a Lyme disease vaccine will not disqualify your dog or limit them from taking part in or receiving any offered services. However, our outdoor area (which your dog may be in up to 7 times a day, depending on their energy levels and exercise requirements) presents a risk of harboring ticks. Ticks carrying Lyme disease will transmit it to your dog if they latch on to them. Lyme disease can lead to kidney failure & death. So we highly recommend getting your dog a Lyme disease vaccination to avoid the risk.
What's the difference between 15-minute playtime and outdoor playtime?
Playtime is an extra service where one of our staff members will play with your dog in an individual session for 15 minutes. During this time your dog will be alone with our staff member and receive all the attention. Outdoor playtime is included. Every dog is given outdoor playtime several times per day where they can play & explore safely within our fenced area.
Are the individual exercise sessions in addition to the standard outdoor sessions?
Yes. The individual exercise sessions are exclusive exercise sessions for your dog with one of our staff members. It's great if your dog is a high-energy breed or puppy, is not spayed or neutered, is older, tends to display pet aggression, or possesses other characteristics that affect their ability to socialize with other dogs.
What do I need to bring for my dog?
What you need to bring:
What you can bring:
Bed/Blankets
Treats
Bones/Toys
You can also bring your own kongs and peanut butter, frozen treats, or anything extra for us to give to your pets at no extra charge. However, please do not bring food or water dishes as we provide those.
Keep your dog happy and healthy with these other services we offer.

Doggy Daycare Located Near:
Your Pet's Up North Vacation Spot