Compare Milwaukee Dog Boarding Costs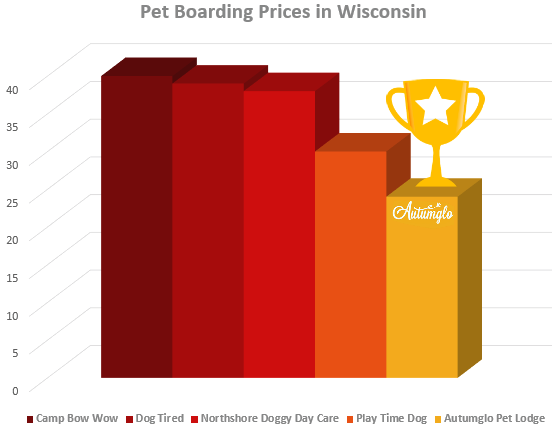 Autumglo Is Top Dog for Affordable Dog Boarding Costs near Milwaukee
Autumglo Pet Lodge provides affordable, luxury dog boarding near Milwaukee, Wisconsin. Dog boarding costs in the Milwaukee area depend on the size of your dog, how many dogs you're boarding, and the number of days they'll stay at the pet hotel.
In Milwaukee, it's typical for dog boarding costs to range from $20 to $40 a night. We've made it easy to compare dog boarding costs of pet hotels in and around Milwaukee. It's important to choose a dog boarding facility capable of meeting all your dog or cat's unique needs without breaking the bank. Autumglo is dedicated to providing the best dog boarding services at budget-friendly costs.
Many of the pet boarding options below only include a dog kennel in Milwaukee. At Autumglo, your pet enjoys cozy accommodations, friendly play and comforting add-ons. We pride ourselves on giving your dog or cat the best boarding experience time and time again.
Milwaukee Dog Kennels Can't Measure Up to Autumglo Pet Lodge
Unlike Milwaukee dog kennels, Autumglo Pet Lodge welcomes your dog or cat with comforts including:
Roomy, luxury cabin suites with bed, daily maid service... and treats!
Supervised playtime in a fenced area
Nature trail walks
A cozy and safe environment
Book your pet's stay at our Milwaukee area dog boarding lodge today!

How Much Does Dog Boarding Cost in Milwaukee, WI?
**Graphic Designs & Logos Featured from Other Facilities are Not the Property of Autumglo Pet Lodge**

Autumglo Keeps Milwaukee Area Dog Boarding Costs Budget-Friendly
At Autumglo, we are dedicated to providing your pets with a caring and friendly staff. We are a family owned business and all of us have a passion for pets. Whether it's cat boarding or dog boarding, your pet is safe with us. We also offer doggy daycare services and full-service grooming. We provide the best pet boarding services near Milwaukee.
Contact our Milwaukee dog boarding caregivers today to book your pet's stay!
Back To All Events