Turn Your Dog Into a Perfect Model Citizen With Dog Training From Autumglo in Fredonia
Build a Bond With Your Dog That Will Last the Test of Time
The training experts at Autumglo Pet Lodges know just how important a solid training foundation is to bring out the best in your dog. We also understand that the beginning to this foundation begins with a strong bond and relationship between your dog and its family.
Sign up for Dog Training Today!
Puppy & Dog Training Programs Available From Autumglo near Milwaukee
Autumglo offers a variety of training options and services for every level of ability. Whether you are looking for introductory training classes for puppies or want us to administer the AKC Advanced Trick Dog test, we'll work with in in group or private to help your dog reach their full potential. We will tailor your dog's training and group classes to their individual needs and age.
One-on-One Training Sessions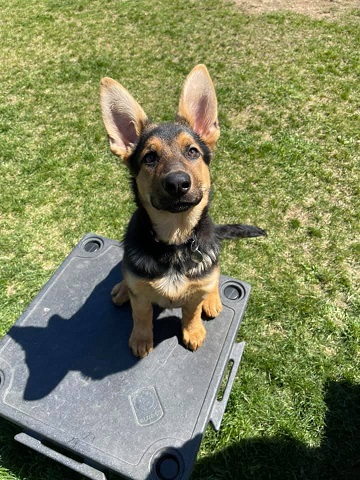 Our trainers will work with you one-on-one to cater your dog's training to best fit your personal goals and the needs of both you and your dog. To best help your dog, we offer several different types of one-on-one training sessions like:
In-home private sessions
In-home evaluations
Private sessions at our facility
Puppy Class
An excellent introduction training class for puppies between 16 weeks and 6 months old, this class teaches the basics like "sit", "down", "wait", "stay", leash skills and "leave it". We also cover important puppy information like teething, grooming, exercising, potty and crate training. Puppies are eligible to test for their AKC S.T.A.R. puppy at the end of the 6 weeks.
Level 1 Obedience Training
All basic obedience like sit, down, stay, wait, come, loose leash walking and an intro to a place command.
Level 2 Obedience Training
This class will focus a lot on the place command, heeling and your dog's self control. We will also build on the skills learned prior by adding distance, duration and distractions to the commands.
Level 3 Obedience Training
This class focuses mostly on advanced skills and concepts. Dogs must have completed all prior training before joining the level 3 class.
AKC Tests Available near Milwaukee at Autumglo
Autumglo also offers several different AKC training programs and testing.
Canine Good Citizen (CGC)
The Canine Good Citizen program is a ten-step training program available to purebreds and mixed breeds alike that focuses on teaching the basics of good manners and obedience. It will also help instill the values of responsible ownership into you while also strengthening the bond between you and your dog, both at home and out in the community.
After mastering the skills and passing the CGC test, you and your pup will then take the Responsible Dog Ownership pledge and join the proud ranks of over 1 million dogs and owners who have earned their CGC.
AKC Community Canine (CGCA)
This is the advanced level of the AKC's Canine Good Citizen Program. After taking and passing the AKC Community Canine test, the dog will earn the official AKC Community Canine title designated by the letters "CGCA" (Advanced CGC) on their AKC record.
While CGC tests are typically performed in a familiar environment, like the training facility, and situations are simulated (i.e. training helpers serving as a "crowd"), the CGCA test is administered in real-life situations, including situations like shows, classes and other situations in the community.
AKC Urban CGC Test as a Public Access Test (CGCU)
The AKC Urban CGC title is in the same CGC family of awards and titles that include the earlier titles, AKC S.T.A.R. Puppy, Canine Good Citizen and AKC Community Canine.
The CGCU test requires that the dog demonstrate the earlier CGC skills and beyond in a real setting that includes traffic, crowds, noises, smells and other distractions that are present in a city. Similar to the CGC, the CGCU test consists of 10 different skills that dogs must pass to earn their title. After passing this test, the dog will earn the CGCU title that will appear on their title record at the AKC.
This is a public access test meant to demonstrate that the dog is well-behaved and well-trained when in public settings. The CGCU title can be used by dog-friendly businesses (i.e. hotels, retail stores, public transportation, public facilities, etc) to recognize and accept dogs with good behavior and training.
Private Sessions/E-collar Training/Behavior Modifications
note: Owners must sign-up for no less than 3 private sessions
Autumglo Has the Best Puppy & Dog Obedience Trainers North of Milwaukee
Training can definitely have its ups and downs. The experts at Autumglo are here to help you through your rough patches and celebrate your successes! Contact us for more information and start your dog on the path to becoming a perfect model citizen today!