Doggy Day Camp Enrichment North of Milwaukee
Doggy Day Camp is Fun & Safe Pet Care
Instead of your pet being bored or destructive at home alone, he/she can be living it up at the doggy day camp that Fredonia, WI and nearby areas rely on for fun, safe, and clean pet care. When you enroll your pet at our doggy day camp, they'll get activities for:
Training

Fitness

Enrichment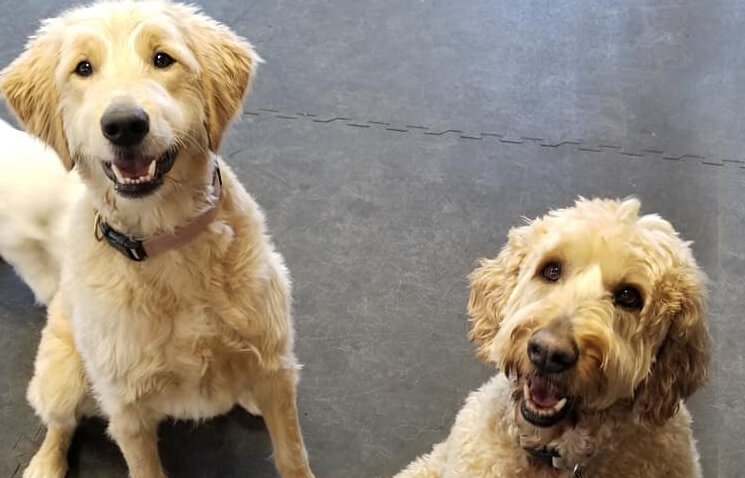 Our doggy day camp in Fredonia, WI area allows spayed or neutered pets to play together in a supervised environment. There is one of our pet day camp counselors present at all times to ensure the ultimate safety of your dog. We use KLIMBS, CATO Boards, and FitPaw equipment when working with your dogs.
We like to keep our dogs' minds and bodies working throughout the entire day, whether through their fitness activities or enrichment puzzles. Every day, there is an enrichment activity in the morning and a training objective for the afternoon.
A few of the common aspects we work on in our day camp are:
"Place"
"Kennel"
"Wait", boundaries and self-control
Basic obedience commands
Our pet day camp is a great way for dogs to get out in the fresh air, exercise, and play with other dogs while also getting to socialize with humans. The doggy day camp facility and its caretakers are also available for pet boarding.
Doggy day camp with Autumglo Pet Lodge has been enjoyed by patrons from Milwaukee to West Bend to Sheboygan. People and their pets love our facilities, and you will too. Contact our offices today to take a tour or schedule a stay.
Doggy Day Camp Rules
Hours of Operation:
Mondays - Thursdays
Day camp: 8:00 A.M. - 2 P.M.
Drop off: 7:30 A.M. - 8:30 A.M.
All dogs must be dropped off between 7:30 - 8:30 a.m. Dogs dropped off after 8:30 a.m. will be kenneled until their break at 10:30 a.m.
Doggy Day Camp Requirements:
Reservations are required - "drop-ins" are not allowed. See our policies for more information
All dogs' nails must be trimmed for the safety of the other dogs and our staff*
Dogs must attend daycare

at least once a week

All dogs over the age of 6 months must be neutered or spayed
Puppies must be at least 12 weeks old
All dogs must have the necessary vaccines for their age - proof is required

Dogs must be non-aggressive to food, toys, humans and other dogs**
All dogs must complete the enrollment process and pass their evaluation before attending
*Nails that are too long will be trimmed and the cost ($15) charged to your account.
**If we begin to have any issues with your dog (i.e. aggressive behavior to other people or dogs, extreme discomfort or nervousness), we may call you to pick them up early. We may offer alternative care suggestions and/or training options.

For enrollment, please fill out our Day Camp Evaluation Form and email it to info@autumglo.com
What you and your dog will get out of our day camp:
An hour of structured play in the morning and a 30-minute structured play session in the afternoon
An hour of training focusing on a different training aspect each week
Nap time with a KONG
An enrichment exercise
"Place" work
A report stating exactly what we did that day and how your dog behave
Looking for a more personal approach?
Ask about our day stay
Our day stay program is very similar to our day camp but without the other dogs. This more personal approach is perfect for young puppies who need more attention, dogs that don't get along well with other dogs, or if you would just like your dog to be looked after individually.
Dogs that need to stay after 2pm can either be kenneled and let out several times, or signed up for a walk, playtime, enrichment activity or cuddle time.
If you would like your dog fed during the day, please bring their food in a container labeled with their name and feeding instructions
Doggy Day Camp Costs:
Our doggy day camp located in Fredonia, WI, is the perfect daily getaway for your pet. We always do what's best for your dog--not just what's convenient like some other pet care places--and we treat them with respect and love. Pamper your pet with our comprehensive dog grooming service, or simply drop them off for afternoon playtime. Bring your dog to our doggy day camp for a day of fun and play, and please read below for our affordable day camp costs.
Day Camp Enrichment
$36
Package
20 Full Days $612 (15% discount)
10 Full Days $324 (10% discount)
Doggy Day Camp Policies
Reservations: Reservations are required for doggy day camp. "Drop-ins" are not allowed.
Cancellations: At least 24-hours of advance notice is required in order to cancel or reschedule a day care reservation. Without proper notice, clients are still responsible for paying the price of day camp for that day, and their account will be charged $30 accordingly. If you have a package deal, you will lose a day if you do not give proper notice or show up.
No-shows: Clients that no-show are still responsible for paying the cost of day camp for that day, and their account will be charged $30 accordingly. Clients with a package deal will lose a day. If a client no-shows or does not give proper notice more than five times, they will be asked to no longer come to our day camp. With limited spots available, no-shows take that spot away from someone else.