Fredonia Pet Boarding Lodge Answers Your Most Frequently Asked Questions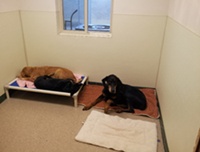 Clean & Safe Pet Boarding Facility
Leaving your precious pet in Fredonia in the hands of our professional pet sitters is often difficult for loving owners. We want you to feel comfortable leaving your dog or cat with our pet sitters. Take a look at some of our most frequently asked questions to learn more about our state-of-the-art pet lodge facilities in Southeast Wisconsin, as well as our local dog grooming services and pet accommodations.
The Best Pet Boarding Place in Southeast Wisconsin
We are much more than just a local doggy day care or generic pet hotel. From treats to suites, our Fredonia, WI area pet care experts provide the best local pet sitting accommodations to make your pet's stay is enjoyable and stress-free. Please read below for answers to your most commonly asked questions, and rest easy knowing we care for you pets as if they were our own.
Contact our Fredonia pet boarding providers now to see what our Southeast Wisconsin pet resort is all about.

Doggy Daycare Located Near:

Doggy Daycare Located Near:
Your Pet's Up North Vacation Spot