Wisconsin Dog Boarding Vaccine Requirements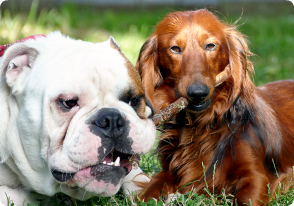 Our Southeast Wisconsin Pet Boarding Lodge Requires Dog Vaccines for Health & Safety
At Autumglo, the safety of your pet is our top priority. We make sure your dog is comfortable and given the best care while you're away. We carefully follow all standard of care requirements mandated by Wisconsin State Legislature, including dog vaccination requirements.
To keep your pet safe from contagious illnesses, we require all overnight canine guests to have up-to-date dog vaccinations prior to arriving at our Ozaukee County pet boarding lodge.
As part of our Southeast Wisconsin pet boarding resources, we've outlined the required and recommended vaccines your dog needs to have the best experience at Autumglo.
Contact our dog boarding professionals for more information.
Is your dog ready for Autumglo Pet Lodge?

✔ Verified Information: This page references the ATCP 16.24, ATCP 16.22, 95.21 Rabies Control Program & ATCP 16.20 of the Wisconsin State Legislature.
Dog Vaccinations Required for Kennels and Pet Boarding near Milwaukee
The Vaccinations Your Dog Needs to Book a Stay
Your pet is important to us, so we strive to provide the most affordable luxury dog boarding to greater Milwaukee area residents. Make sure your dog is ready to stay with us by providing documented proof of the following vaccinations:
Bordetella Vaccine
Rabies Vaccine
DHLPP Vaccine

Required Dog Vaccinations in Wisconsin
Bordetella

The Bordetella vaccine injected into the nose of a dog, it protects dogs from what's known as "Kennel Cough" in communities across Wisconsin.

Bordetella: A deadly disease caused by one or more virus & bacteria.

Rabies

Backed by state law, the rabies vaccine is required to be taken no later than 5 months of age.

Rabies: A fatal disease which attacks brain cells.

DHLPP

Essentially 8 different vaccinations in one, the DHLPP vaccine must be started around 8 weeks of age and boost every 3-4 weeks until 4 months age, then once on a yearly basis. This vaccine protects against:

Distemper: A paramyxovirus similar to human measles.
Hepatitis: An adenovirus causing liver, eye or kidney failure.
Parainfluenza: A potentially deadly virus known, also known as the tracheobronchitis disease or "Kennel Cough".
Parvovirus: A virus that can kill dogs in less than 72 hours.
Leptospirosis: A bacteria capable of causing kidney failure & death.

Lyme

It is recommended (not required) you vaccinate your dog for Lyme disease since our outdoor area does pose the risk of harboring ticks.

By keeping your dogs up to date on their Lyme disease vaccinations, you can sign them up for outdoor play time stress-free!

Lyme Disease: Borrelia burgdorferi bacteria is transmitted by ticks & can lead to kidney failure & death.

From Bordetella to Rabies and Lyme Disease, dogs are at constant risk of contracting deadly illnesses when they are not vaccinated. For this reason, pet owners cannot schedule a spot for their dogs without having state required shots. It is the personal responsibility of the owner to vaccinate their pets and the responsibility of a pet boarding facility to protect the health of all dogs and cats present.

Contact Autumglo Pet Lodge today for more information on dog boarding vaccine requirements in Wisconsin!
Where to Vaccinate Your Dog or Cat
Low-Cost Pet Vaccinations near Milwaukee, Waukesha & Fredonia
When choosing a vet or clinic to vaccine your cat or dog, there are a number of qualities you should look for not only in the veterinarians themselves, but the facility as well. The interior of the building should be clean and the staff should present themselves as attentive, professional and knowledgeable.
Depending on what you're looking for will also decide where you choose to schedule your dog's vaccine appointments. For instance, pet owners who simply want a vaccine have many options around the Milwaukee area, while dog and cat owners who want more services may choose a local Humane Society for the multitude of low-cost services they offer, including:
Vaccinations
Spays
Neuters
Surrenders
End of Life
Rehabilitation
Before you book a stay with Autumglo Pet Lodge, make sure your dogs and cats have the required vaccinations they need to be checked into any Wisconsin boarding facility, kennel or pet hotel. Vaccines are extremely affordable and do more than qualify you for pet boarding—they keep your dogs and cats healthy!
Where to get dog vaccinations near Milwaukee

If your dog or cat has already been vaccinated, book their stay with our Milwaukee dog boarding facility!
Back To All Events