Wisconsin Dog Boarding Vaccine Requirements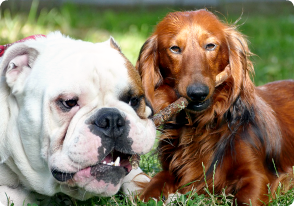 Dog Vaccinations Required for Kennels & Lodges near Milwaukee
Find theDog Shots You Need to Book a Stay at Autumglo Pet Lodge!
When considering dog boarding in Wisconsin, take a look through local vaccine and animal facility requirements! Not only do our state animal laws show you how to prepare your pets for an overnight stay at Autumglo Pet Lodge, but they give you a clear indication of the Wisconsin standard for dog and cat care.
From highly contagious illnesses to irreversible deadly diseases, there are plenty of risks in the dog and cat communities you can easily prevent by having your pooches vaccinated. At Autumglo Pet Lodge, it isn't just a state requirement. We view dog vaccinations as mandatory to protect and preserve the health of our four legged guests.
Is Your Dog Ready for Autumglo Pet Lodge?

✔ Verified Information: This page references the ATCP 16.24, ATCP 16.22, 95.21 Rabies Control Program & ATCP 16.20 of the Wisconsin State Legislature.
Dog Boarding Vaccination Requirements in Wisconsin & At Autumglo Pet Lodge
The Vaccinations YOUR Dog Needs to Book a Stay
While breaking down dog boarding costs in Wisconsin, make sure you take vaccinations into account! Autumglo Pet Lodge still proves to have the most affordable dog boarding in Milwaukee, but you won't be able to book your dog or cat's stay until they are up to date on their shots. Before boarding at Autumglo Pet Lodge, your dog must have documented proof of vaccinations required by the state of Wisconsin, including:
Bordetella Vaccine
Rabies Vaccine
DHLPP Vaccine
Its hard enough leaving your dog or cat for a single night away from home. If you have a weekend vacation planned or you know you'll be gone for a week, make sure your pets come home happy by having them properly vaccinated! If you need any additional information on the vaccinations required by state law in Wisconsin, please do not hestitate to call Autumglo Pet Lodge.
Required Dog Vaccinations in Wisconsin
Bordetella Vaccine

Rabies Vaccine

A vaccine injected into the nose of a dog, it protects dogs from what's known as "Kennel Cough" in communities across Wisconsin.

Bordetella: A deadly disease caused by one or more virus & bacteria.

Backed by state law, the rabies vaccine is required to be taken no later than 5 months of age.

Rabies: A fatal disease which attacks brain cells.

DHLPP Vaccine

Lyme Vaccine

Essentially 8 different vaccinations in one, the DHLPP vaccine must be started around 8 weeks of age and boost every 3-4 weeks until 4 months age, then once on a yearly basis. This vaccine protects against:

Distemper: A paramyxovirus similar to human measles.
Hepatitis: An adenovirus causing liver, eye or kidney failure.
Parainfluenza: A potentially deadly virus known, also known as the tracheobronchitis disease or "Kennel Cough".
Parvovirus: A virus that can kill dogs in less than 72 hours.
Leptospirosis: A bacteria capable of causing kidney failure & death.

It is recommended, but not required, you also vaccinate your dog for Lyme disease since our outdoor area does pose the risk of harboring ticks.

By keeping your dogs up to date on their Lyme disease vaccinations, you can sign them up for outdoor play time stress-free!

Lyme Disease: Borrelia burgdorferi bacteria is transmitted by ticks & can lead to kidney failure & death.
From Bordetella to Rabies and Lyme Disease, dogs are at constant risk of contracting deadly illnesses when they are not vaccinated. For this reason, pet owners cannot schedule a spot for their dogs without having state requried shots. It is the personal responsibility of the owner to vaccinate their pets and the responsibility of a pet boarding facility to protect the health of all dogs and cats present.

Contact Autumglo Pet Lodge today for more information on dog boarding vaccine requirements in Wisconsin!
Where to Vaccinate Your Dog or Cat
Low Cost Pet Vaccinations in Milwaukee, Waukesha & Fredonia
When choosing a vet or clinic to vaccine your cat or dog, there are a number of qualities you should look for not only in the veterinarians themsevles, but the facility as well. The interior of the building should be clean and the staff should present themselves as attentive, professional and knowledgable.
Depending on what you're looking for will also decide where you choose to schedule your dog's vaccine appointments. For instance, pet owners who simply want a vaccine have many options near Milwaukee, while dog and cat owners who want more services may choose a local Humane Society for the multitude of low cost services they offer, including:
Vaccinations
Spays
Neuters
Surrenders
End of Life
Rehabilitation
Before you book a stay with Autumglo Pet Lodge, make sure your dogs and cats have the required vaccinations they need to be checked into any Wisconsin boarding facility, kennel or pet hotel. Vaccines are extremely affordable and do more than qualify you for pet boarding - they keep your dogs and cats healthy!
Where to get Dog Vaccincations near Milwaukee

If your dog or cat has already been vaccinated, book their stay with our Milwaukee dog boarding facility!
Back To All Events