Turn Your Dog Into a Perfect Model Citizen With Dog Training From Autumglo in Fredonia
Build a Bond With Your Dog That Will Last the Test of Time
The training experts at Autumglo Pet Lodges know just how important a solid training foundation is to bring out the best in your dog. We also understand that the beginning to this foundation begins with a strong bond and relationship between your dog and its family. Much of our focus is on building and fostering that relationship through treats, praise, games and other rewards. We use only the most effective positive training techniques with time-proven results, while keeping it simple and fun!
Sign up for Dog Training Today!
Puppy & Dog Training Programs Available From Autumglo near Milwaukee
Autumglo offers a variety of training options and services for every level of ability. Whether you are looking for introductory training classes for puppies or want us to administer the AKC Advanced Trick Dog test, we'll work with in in group or private to help your dog reach their full potential. We will tailor your dog's training and group classes to their individual needs and age.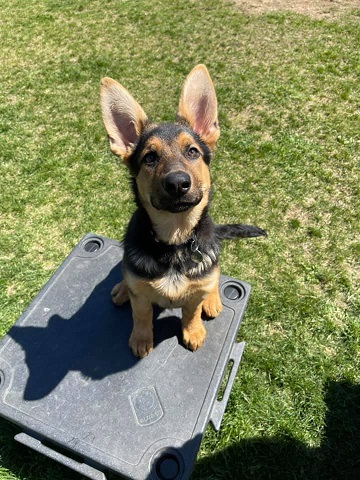 One-on-One Training Sessions
Our trainers will work with you one-on-one to cater your dog's training to best fit your personal goals and the needs of both you and your dog.
AKC S.T.A.R. Puppy Class
The AKC S.T.A.R. Puppy program is an excellent introduction training class for puppies between 10 weeks and 1 year old. The S.T.A.R. program will start your puppy off on the right paw by laying down a good foundation for later training. We will help you learn how to take care of your new family member while your puppy will begin to learn things like the proper behaviors for socializing, allowing owner handling, a few commands like "sit" or "down", and more! This program also acts as a great lead-in to earning the AKC Canine Good Citizen title.
Basic Obedience Group Class
This class is for dogs 6 months or older who already know some basics. We will work with you and your dog to follow more commands like sit, down, recall, leave it, wait and stay. Your dog will also get an introduction to loose leash walking. We will go over and practice all of the requirements and test items for the AKC Canine Good Citizen test throughout this 6 week training class.
Intermediate Obedience Group Class
This class is also for dogs 6 months or older but know most-all of their basics. We will work with you to teach your dog to better follow basic commands, like stay or down, for a longer duration at a further distance from you while ignoring small distractions. Your dog will also begin to learn more advanced leash skills. At the end of the 6 week training class, we can also conduct the AKC Canine Good Citizen test. We will go over the CGC test requirements and practice all items on the test through the class.
Advanced Group Class
Coming Soon!
Trick Dog Group Class
Coming Soon!
AKC Tests Available near Milwaukee at Autumglo
We also offer AKC tests for the following Canine Good Citizen and Trick Dog titles:
Canine Good Citizen (CGC) Test
Community Canine (CGCA) Test
Urban Canine Good Citizen (CGCU) Test
Novice Trick Dog (TKN) Test
Intermediate Trick Dog (TKI) Test
Advanced Trick Dog (TKA) Test
Autumglo Has the Best Puppy & Dog Obedience Trainers North of Milwaukee
Training can definitely have its ups and downs. The experts at Autumglo are here to help you through your rough patches and celebrate your successes! Contact us for more information and start your dog on the path to becoming a perfect model citizen today!