Dog Grooming Near West Bend, WI Area
Dog Groomers Trusted by the Sheboygan Area for Gentle Grooming

Whether staying at the Autumglo Pet Lodge for dog boarding near West Bend, WI or just coming in for pampering, your pet will revel in our full-service grooming facility. Our dog groomers are committed to the health and happiness of your pet, which is why our local dog grooming services promote good hygiene from nails to coat to teeth.
Hydrosurge® Pet Bathing System
Pet groomers at Autumglo don't only provide custom haircuts; we also provide nail cutting, tooth brushing, and ear cleaning. When you bring your dog to our local pet groomers your pet will be gently bathed with the Hydrosurge® Pet Bathing System. This remarkable system offers a major breakthrough in pet bathing technology. Hydrosurge® provides your pet with a gentle, yet invigorating, massage while delivering the most thorough cleaning process ever since available.
Hydrosurge® also enhances the effectiveness of coat and skin treatments. After receiving our local pet grooming service your dog will be completely blown dry. Our pet groomers dry your pet thoroughly, because we don't want them getting chilled, or winding up with snarly fur, detracting from the softness and fluffiness of their freshly washed coat.

Separate Pet Grooming Services
Our local dog groomers always trim your pet's nails when your pet receives our full-service dog grooming treatment, whether it's a part of your pet's stay in our pet boarding facility, or even just à-la-carte. However, our nail trimming, tooth brushing, and ear cleaning services can also be performed by appointment between regular dog groomings. Puppies are like people; their nails can be cut without them having to take a shower.
| | | |
| --- | --- | --- |
| | Between Regular Appointment Options: | |
| Nail Trimming | Tooth Brushing | Ear Cleaning |
Groomers Need to be Aware of All Pet Issues
If there are any areas you feel we should be aware prior to grooming your dog please let us know. Special restrictions limitations, or behavior issues we should be aware of may include:
Nipping
Sores or wounds
Cysts
Areas of soreness relating to injury or arthritis
Recurring ear infections
Skin conditions
Sensitive areas (like under the tail) requiring additional assistance from one of our local dog groomers
Whether you've got a perpetually playful puppy or an ornery older dog, our dog groomers treat your pet with the highest level of care and respect. We use calming touches and positive reinforcement to reassure your pet that he/she is in good hands. Every day, our dog groomers deal with a wide variety of pet temperaments and behaviors. We understand how to effectively manage hyper, stubborn, or irritable pets, using techniques with roots in patience and gentle care.
Private Dog Bathing Room for Self-Service Convenience
Whether you don't have the appropriate facilities to wash your dog or you just dread the mess, our private dog bathing room is perfect for you. Our local DIY-grooming room for dogs provides the use of our tub, shampoo, dryers, and towels. In fact, we supply everything but the dirty dog!
* Cost: $12 (one hour dog grooming room rental) *
Never put up with a soaked bathroom or basement, fur-covered towels, and burned-out blow dryers again!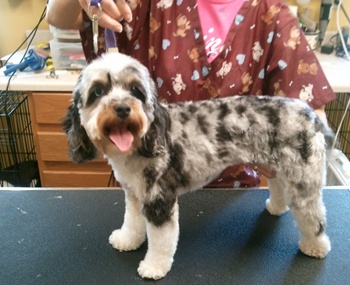 Located a Short Drive From:
Fredonia
Oostburg
Cheeseville
Myra
Saukville
Knellsville
Sheboygan Falls
Contact our dog grooming facilities near the Plymouth, WI area today for availability of our private dog bathing rooms.