Fredonia Dog Resort and Cat Hotel Makes Your Pet the Priority
Fill out our Online Form to Schedule your Pets Stay
OR
Call 262-692-9797 Today!
Call Us To Schedule A Tour of the Lodge 262.692.9797
Fax: 262.692.2980
Fill out our Form to Schedule your Dog or Cat's Next Vacation!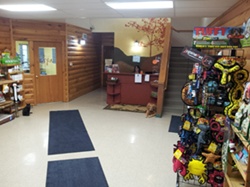 Autumglo Pet Lodge in Fredonia is unlike any other of its kind. Our state-of-the-art facility was built with all pet care needs in mind, making us the most well equipped pet resort in Southeast Wisconsin. We treat your dogs or cats as though they are our own. We make your pet a priority and do what's best for your dog or cat, not just what's convenient. Our comfortable cat and dog boarding accommodations promise a great visit for your pet; it might even be difficult to pull them away! Our luxury West Bend area dog kennel leads the doggy day care industry and truly values each interaction with the canines. Our cat boarding accommodations are carefully designed to ensure even the most shy or playful felines are happy. Let us know when you need a weekend away and we're more than happy to pet sit your little family pet. Thank you for sharing our passion for pets.
Schedule a visit with our West bend area pet care experts today to take care of your dog(s) while you're away!