Doggy Daycare North of Milwaukee
Doggy Daycare is Fun & Safe Pet Care
Instead of your pet being bored or destructive at home alone, he/she can be living it up at doggy daycare in Fredonia, WI and nearby areas rely on for fun, safe, and clean pet care. When you enroll your pet at our doggy daycare, they'll get to:
Socialize,


Exercise, and Learn

Enjoy an Environment


that's Safe, Fun, and Stimulating

Indulge


in Daily Treats

Receive


Grooming (Upon Request)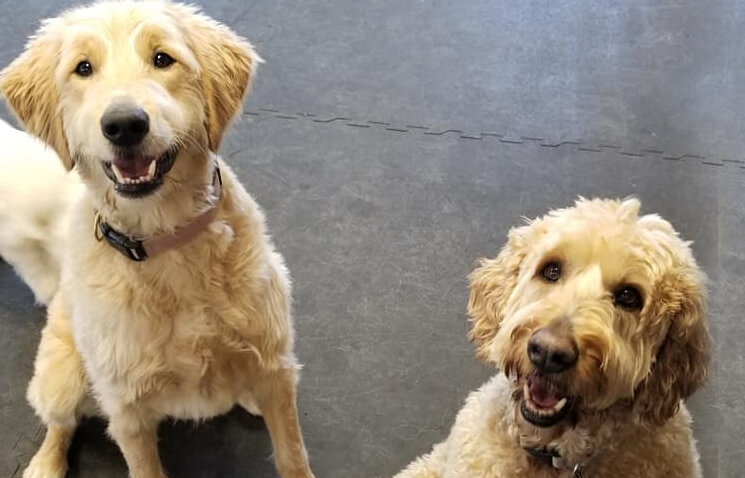 Hours of Operation
Monday & Wednesday
7:30A - 5:00P
(arrangements can be made to pick up later.)
Tuesday & Thursday
7:00A - 5:00P
(arrangements can be made to pick up later.)
Our doggy daycare in Fredonia, WI area allows spayed or neutered pets to play together in a supervised environment. There is one of our pet daycare counselors present at all times to ensure the ultimate safety of your dog. Dogs enrolled at our pet daycare get to romp around in our huge upstairs playground. On nice days, we go outside and play!
Our pet daycare is a great way for dogs to get out in the fresh air, exercise, and play with other dogs while also getting to socialize with humans. The doggy daycare facility and its caretakers are also available for pet boarding. Additionally, walk-in, all-day services are available.
Doggy daycare with Autumglo Pet Lodge has been enjoyed by patrons from Milwaukee to West Bend to Sheboygan. People and their pets love our facilities, and you will too. Contact our offices today to take a tour or schedule a stay.
Required for Doggy Daycare:
Our Doggy Daycare Program is supervised
Dogs must be spayed or neutered to participate
Dogs are subject to an evaluation; we reserve the right to turn away any dogs which don't play well with others
Dogs must be non-aggressive to food, people, pets and toys
Please fill out our Daycare Evaluation Form and email it to info@autumglo.com
Doggy Daycare Costs:
Our doggy daycare located in Fredonia, WI, is the perfect daily getaway for your pet. We always do what's best for your dog--not just what's convenient like some other pet care places--and we treat them with respect and love. Pamper your pet with our comprehensive dog grooming service, or simply drop them off for afternoon playtime. Bring your dog to our doggy daycare for a day of fun and play, and please read below for our affordable daycare costs.
$24

all-day local doggy daycare
+

$10 with local dog boarding

+

$10 with grooming service
$17 1/2 day morning or afternoon doggy daycare