West Bend, WI Animal Boarding Facilities Offer Scenic Trails and Parks
Southeast Wisconsin Pet Boarding Provides Use of Backyard Dog-Friendly Trails and Parklands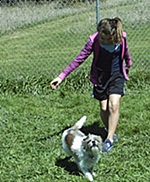 The Autumglo animal boarding facilities near West Bend, WI are nestled up to local dog-friendly trails. Our Southeast Wisconsin pet boarding facility offers the use of these local dog-friendly trails and parks to residents and area visitors. The wooded walking trails extend for several miles, ensuring plenty of running or walking room for you and your pet. Our local dog-friendly trails are groomed for your convenience and strolling pleasure.
When strolling along our local dog-friendly trails we ask you please be considerate of others. There are a few pet-basics we request you comply with for the safety of you, your pet(s), other trail users and for the safety of the pets staying at our West Bend, WI area animal boarding facilities of Southeast Wisconsin. Please follow the local pet-friendly trail etiquette below:
If you stop, please move off the trail so others can easily navigate around you and your pet
Please keep dogs on a leash or under your control at all times
Bring plastic bags to pick up any doggy doo-doo and utilize proper waste containers for disposal
Keep our local pet-friendly trails safe and enjoyable for everyone
If you have comments or suggestions please let us know! We want our local pet-friendly trails to be enjoyable for the whole family. Autumglo Pet Lodge of Southeast Wisconsin looks forward to catering to all your pet needs. From local pet-friendly trails to the dog grooming and animal boarding West Bend, WI and surrounding areas trust for exceptional pet care, Autumglo is your go-to pet playland.