Autumglo Pet Lodge Holiday Hours 2014
Ozaukee County Pet Boarding Vacancy for Holiday Travelers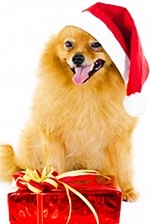 Autumglo Pet Lodge in Fredonia, WI still has vacancies for those needing pet boarding for the holidays! While we do still have openings, they're going FAST, so contact us as soon as possible to ensure your pet has a warm, comfortable, safe and fun place to stay over the holidays!
During busy seasons, especially around the holidays, we do our best to serve the pet boarding needs of Ozaukee County, Washington County and Milwaukee County. If you haven't already booked your pet's stay please contact us immediately to inquire about holiday vacancies.
Autumglo Pet Lodge does have limited pick up/drop off hours over the holidays. On December 24th (Christmas Eve Day) and December 31st (New Year's Eve Day) our pet boarding facilities will be open for pet pick up and drop off from 8AM to Noon. On Christmas Day and New Year's Day there will are no pet pick up or drop off times.
If you have any additional questions or require special accommodations please contact us online as soon as possible. We will respond shortly. Thank you and Happy Holidays from Autumglo Pet Lodge in Fredonia!
Contact our pet boarding facilities in Ozaukee County, WI today to book your pet's holiday lodging or to let us know about any special accommodations.
Back To All Events