Autumglo: The Most Affordable Dog Boarding Facility in Milwaukee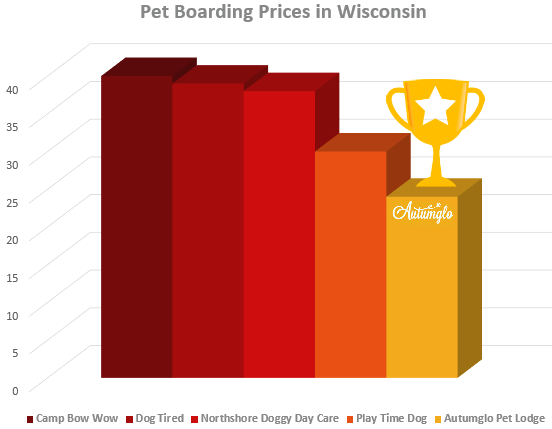 Do a Price Comparison of Dog & Cat Boarding Facilities with Autumglo Pet Lodge!
The cost of boarding your dog in Wisconsin depends on the size of the dog, how many dogs you'll have staying overnight and for how many days they'll be with a pet hotel. In Milwaukee, its typical to see dog boarding cost between $20 and $40 a night. Before making a selection, make sure you really check out your options! Your choices are pretty limited when it comes to finding afforable boarding pets love - its why so many pet owners choose Autumglo!
Many of the dog boarding options below only include the kennel. At Autumglo there is so much more for your dog to experience. We pride ourselves on delivering the best experience for your dog time and time again.
Autumglo Pet Lodge Boarding Features:
Roomy luxury cabin suites with bed, daily maid service and snacks!
Play time in a fenced area
Walking through nature trails
A cozy and safe environment
How Much Does Dog Boarding Cost in Milwaukee, WI?
**Graphic Designs & Logos Featured of Other Facilities are Not the Property of Autumglo Pet Lodge**

Dog Boarding Facilities Can't Compete with Autumglo Pet Lodge's Money Saving Prices
At Autumglo, we are dedicated to providing your pets with a caring and friendly staff. We are a family owned business and all of us have a passion for pets. Whether its cat boarding or dog boarding, your pet is safe with us. We also offer doggy day care services and full-service grooming - so keep us in mind when you're looking for short term pet care as well! When searching for pet boarding in Wisconsin, we're your best source for dependable and affordable pet boarding services.
Contact us today to have your dog experience friendly pet boarding services at a low cost.
Back To All Events